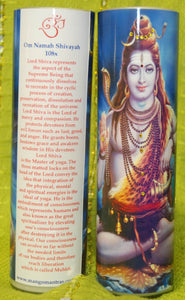 Shiva Mantra Meditation Candle embellished with Swarovski Crystals
🕉️"Om Namah Shivayah"🕉️

Printed on back of candle:

"Lord Shiva represents the aspect of the Supreme Being that continuously dissolves to recreate in the cyclic process of creation, preservation, dissolution and recreation of the universe. Lord Shiva is the Lord of mercy and compassion. He protects devotees from evil forces such as lust, greed, and anger. He grants boons, bestows grace and awakens wisdom in His devotees. Lord Shiva is the Master of yoga. The three matted locks on the head of the Lord convey the idea that integration of the physical, mental and spiritual energies is the ideal of yoga. He is the embodiment of consciousness, which represents humans and also known as the great spiritualizer by elevating one's consciousness after destroying it in the physical. Our consciousness can evolve so far without the needed limits of our bodies and therefore reach liberation which is called Mukhti."


***Each candle is smudged, blessed and grounded. And is infused with the high energy, love and protection of our PachaMama, Mother Earth. Please read my profile for more information on my sacred journey of blessing these candles through my special meditation given to me in my meditation visions from our Creator. ***



Last over 100 hours.

Great for altars and gifts.

Also available in Spanish.
---
We Also Recommend
---