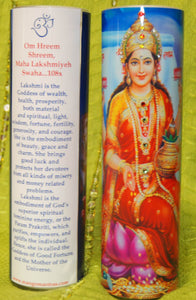 Lakshmi Goddess of Wealth Mantra Meditation Candle embellished with Swarovski Crystals #3
Are you desiring to attract abundance, love & success in different areas of your life?

Then call upon Goddess Lakshmi to assist you on your spiritual path to the abundance and love you deserve! This Lakshmi Mantra Candle offering makes an ideal gift for you or a friend who needs more abundance, love and success in their lives. May Lakshmi bless you with all kinds of abundance and bring success! 🕉️


Printed on back of candle: "Lakshmi is the Goddess of wealth, health, prosperity, both material and spiritual, light wisdom, fortune, fertility, generosity, and courage. She is the embodiment of beauty, grace and charm. She brings good luck and protects her devotees from all kinds of misery and money related problems.Lakshmi is the embodiment of God's superior spiritual feminine energy, or the Param Prakriti, which purifies, empowers, and uplifts the individual. Hence, she is called the Goddess of Good Fortune, and the Mother of the Universe."


***Each candle is smudged, blessed and grounded. And is infused with the high energy, love and protection of our PachaMama, Mother Earth. Please read my profile for more information on my sacred journey of blessing these candles through my special meditation given to me in my meditation visions from our Creator. ***

Available in Spanish too!

More info:

Lakshmi Mantra can create tremendous results to attain Huge Money and Wealth. Lakshmi Mantra creates perfect frequency in the chanter's Aura to find Money. Once Lakshmi Mantra is adjusted and aligned with chanter's energy then it gives continues flow of money and wealth. For adjustment and alignment Lakshmi Mantra takes almost 40 days of nonstop chanting but for some people, it takes little longer. No one has a clear explanation why Lakshmi Mantra or any other mantra takes longer time for alignment.

Who is Goddess Lakshmi?

In Hinduism Goddess Lakshmi is a Deity of Money and Wealth. Lord Vishnu's wife Goddess Lakshmi also plays a protector role like Lord Vishnu. Therefore Goddess Lakshmi Mantra gives immense money to live perfectly prosperous and wealthy life.

Goddess Lakshmi is the Symbol of Good Fortune in Hinduism. In Sanskrit Language meaning of the word Lakshmi is imitative from the word Laksya (Aim) and she is the Goddess of money, wealth, and prosperity even both material and spiritual.

Figure of Goddess Mahalakshmi (Mahalaxmi)

Goddess Lakshmi is a fair and golden complexion female Deity with 4 hands, sitting or standing on a full-bloomed pink or red lotus. She holds a beautiful lotus bud in one of her hand, which stands for charm, purity, and lushness. Goddess Lakshmi's four hands represent the four main points of human life:

Dharma-Virtue
Artha-Wealth
Kama-Desire
Moksha-Ascension
She wears reddish golden cloths which are the symbols of power and prosperity. Flowing coins from her hand show the abundance. Two elephants are standing next to the goddess and spraying water is the symbol of both material and spiritual prosperity.

Lakshmi Mantra

How to Start Lakshmi Mantra (Laxmi Mantra)

There are many types of Lakshmi Mantras and each Mantra creates its own vibrations but all mantras give money, wealth, and prosperity. People often start Lakshmi Mantra from Friday or from Full Moon with a lotus seed rosary or a crystal rosary. Counting of Lakshmi Mantra depends on chanter's need. If your need of money is little then 108/daily chanting is enough but if your need of money is high then go for 108X5/daily. The more you chant, the more you attract money as the blessing of Goddess Lakshmi.
---
We Also Recommend
---