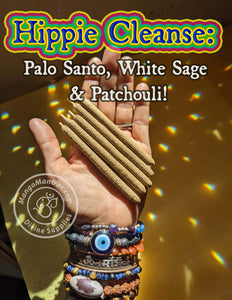 Hippie Cleanse! 100% Pure Sacred Palo Santo, White Sage & Patchouli Incense Sticks for Cleansing and Purifying!
☀🌟☀🌟☀ Hippie Cleanse: Palo Santo, White Sage & Patchouli ☀🌟☀🌟☀
🌟Hola amigos! Peace Peace in the Middle East!
If you're a hippie like me, you'll definitely like these!
These triple scented Palo Santo incense sticks are awesome!
They smell divine and are a great way to purify and bless your space!
🌟Get the good vibes going and start cleansing the planet! Feel the good vibes in the sunshine! ☀🌟☀🌟☀🌟☀🌟☀🌟☀🌟☀
Palo Santo is used for increasing everything positive as well as removing the negative energies from your home, office and other surroundings bringing positive energy to your space with a sweet freshness!
🌟A great alternative for burning Palo Santo wood sticks! These palo santo incense sticks are more practical because they burn on their own and don't have to keep relighting them like the wood sticks.
☀🌟☀🌟☀🌟☀🌟☀🌟☀🌟☀
☀🌟☀🌟☀🌟☀🌟☀🌟☀🌟☀
Product Specifications:
-Each stick is 4" long
-Each bag comes with 5 sticks.
-Each stick burns for approximately 45-60 mins! Super long awesome smooth burn time!
-Made from 100% Pure Palo Santo powder with plant based binder
-From Peru
☀🌟☀🌟☀🌟☀🌟☀🌟☀🌟☀
---
We Also Recommend
---