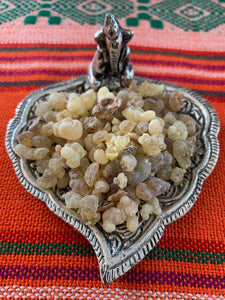 🧿Premium Golden Ethiopian Frankincense!🧿
🌟Golden Ethiopian Frankincense! The king of resins since time immemorial.
Sanctify, Protect and Bless your space with this divine incense!🌟

🌟This Golden Frankincense is a beautiful premium quality Boswellia papyrifera resin originating from Ethiopia, an Eastern African country revered for its quality Frankincense.

🌟Frankincense is thought to elevate the mind and expand spiritual consciousness, perfect for meditation, and mixes well with other resins, in particular Myrrh. It has been used since time immemorial for many other health and beauty benefits as well. It is the purest form of incense, used either in pure pellets or in a pre-mixed blend, and warmed with heat (usually charcoal tablets) to emit their fragrance through aromatic smoke.

🌟Don't forget to order CHARCOAL TABLETS if you don't already have some on hand!

This listing is for 1 oz of Golden Ethiopian Frankincense.
---
We Also Recommend
---