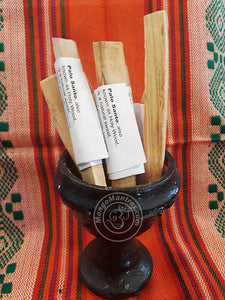 Holy Peruvian Palo Santo!
☀🌟☀🌟☀Holy Peruvian Palo Santo Sticks ☀🌟☀🌟☀


These Palo Santo sticks are awesome! They smell divine and are a great way to purify and bless your space!

Palo Santo is used for increasing everything positive as well as removing the negative energies from your home, office and other surroundings bringing positive energy to your space with a sweet freshness! It serves as a 100% mosquito and insect repeller, ideal for children's rooms. Just burn the tip and blow the stick, let the smoke of this "Holy Wood" do the magic.

Palo Santo is a sacred fragrance tree in South America that mean "Holy Wood". It is similar to Frankincense, Myrrh, and Copal resin incense. Our Palo Santo wood is 100% natural, no trees or forest are harmed to gather these sticks.

*This listing is for one 4 " Palo Santo stick. Each stick comes with a printed note of the benefits and how to use tips.
---
We Also Recommend
---