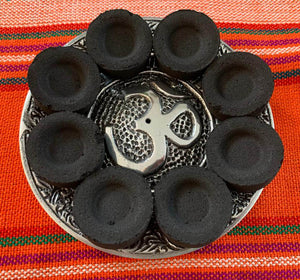 Charcoal Disk: Self Igniting
🌟
Charcoal Disk Tablets for burning resins and herbs incense. (Swift Charcoal)
🌟
These charcoal tablet rounds are excellent way to burn your resins or loose sage leaves and herbs!
The fast-lighting charcoal from Swift-Lite is a smokeless and odorless product originally designed for religious incense burning. Swift Lite charcoal uses sustainable wood sources and only uses specially selected species of timber in order to give a hotter and stronger product.
🌟Each tablet can last for 40-60 minutes
This roll has 10 tablets and measure 33mm.
---
We Also Recommend
---