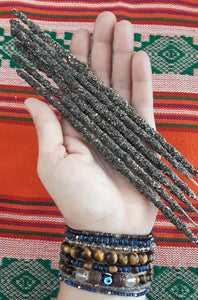 🧿Magickal Myrrh & Frankincense Artisan Incense Sticks!🧿
🌟Magickal Myrrh & Frankincens Artisan Incense Sticks!🌟


🕉️Transport the spirit and the senses with the mixture of these two divine resins!🕉️

Frankincense & Myrrh have been burned as incense since time immemorial and also for medicinal uses in Ayurveda and Chinese medicine.

🔥Bring the unseen to the seen while burning these two combinations of incense while meditating on your highest intentions to bring out the best in your life's journey.

🌳Using these beautiful resin is a wonderful way to heal your body and soothe a busy mind in any season. Enjoy!

🔥100% Hand rolled artisan incense.

🌟Use it for blessing, protection, clearing, psychic work, meditation , love spells and divine favor



This listing is for 6 sticks of incense.

*Each stick is 11" long and burns over one hour long.
---
We Also Recommend
---