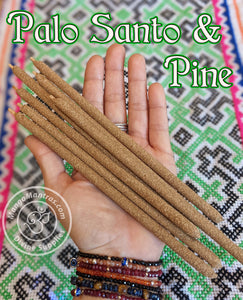 Palo Santo & Pine to Purify, Protect and Bless!
🌟☀🌟 Palo Santo & Pine Handmade Incense Sticks 🌟☀🌟
These Palo Santo & Pine incense sticks are awesome! They smell divine and are a great way to purify and bless your space!
🌟This awesome new combo of Pine & Palo Santo just came in from Peru!
🌟Add it to your spiritual arsenal to banish, protect and bless your space!
🌟Burn them in your home to provide a protective background to your everyday life or instead use them in ritual to make your protective spells more capable of warding off hexes, curses, and other such negative attention.
🌟The perfect insect repellant! Both pine and palo santo are known for their power of repelling annoying insects like mosquitos.
🌟Handcrafted, and of the highest quality with the best herbs, resins, and organic binder.
Palo Santo is used for increasing everything positive as well as removing the negative energies from your home, office and other surroundings bringing positive energy to your space with a sweet freshness! It serves as a 100% mosquito and insect repellant just like Rue, ideal for children's rooms.
🌟A great alternative for burning Palo Santo wood sticks! These palo santo incense sticks are more practical because they burn on their own and don't have to keep relighting them like the wood sticks.
🌟Comes in packs of 7 or 14 sticks.
🌟2 hour burn time
---
We Also Recommend
---