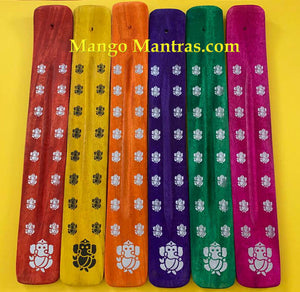 🕉️ Ganesha Incense Stick Holder 🕉️
🕉️Om Gam Ganapatayeh Namaha!🕉️
Remove blocks and obstacles with this awesome Ganesha incense holder!
A beautiful hand crafted and hand painted wooden ash catcher, incense holder, incense burner with block printed Ganesha design. Approx. 10 inches in length.
This burner can be used for incense sticks as well as cones, and makes a great beautiful gift. Each burner is handmade and hence unique in design and finish.
Perfect for meditation, yoga studios or just simply blessing your home with Ganesha's divine presence.
Available in the following colors: Red, Green, Yellow, Orange, Dark Pink, Dark Purple.
---
We Also Recommend
---