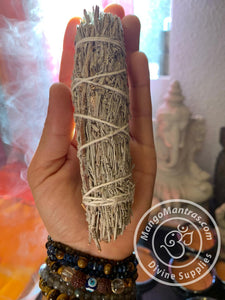 ❤️The Love Smudge! Mtn Lavender, Mtn Sage & White Sage Smudge!❤️
❤️The Love Sage is a balanced blend of white sage, mountain sage and mountain lavendar. Love Sage is used for purfying the atmosphere, dispersing negative stagnant energy. It's soothing relaxing aroma can used to aid meditation or burn simply for enjoyment!❤️
❤️Mountain Lavender, Mountain Sage & White Sage Smudge Stick for peace, cleansing and harmony. ❤️
🌟Create a loving healing space!
🌟These three tools will enhance its healing properties as well as attract good harmonious vibes while creating a peaceful loving atmosphere.
🌟Perfect for use in the bedroom or personal space to increase the benefits of loving energy, restoring emotional balance, and bringing a harmonious atmosphere with your loved ones.
*This listing is for a 4" smudge stick.
---
We Also Recommend
---